HERE'S...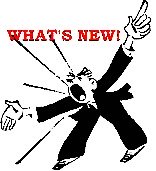 Feb 23, 18 06:01 PM

A Small Mistake on My Part: When you go to my 'Amazon Influencer' page and if you Do Not See a product you would like to research and/or purchase, scroll to top of header-above profile picture-and you…

Feb 23, 18 06:00 PM

Last year, because of some of the news from 'Amazon' I became an Amazon Associate whereby I could advertise Amazon Products on my website and receive commissions when somebody purchased by clicking on…

Feb 22, 18 06:35 PM

My last entry was just b/4 Thanksgiving and of course, b/4 Chanukah. I made it a concentrated effort to research the History of Chanukah and learn why as a 'Messianic Congregationalist' I should under…
Sit, paw, roll over... Catch me at #Trafeze! https://trafeze.com/
Change of Regimen/ Protocol/ May 2017...
Instead of Ordering LIMU [Fucoidan] and Blu Frog Separately, I am Now Ordering a Combo Life Package from YOUNGEVITY, starting in April 2017, I began with the '90-for-Life' package then the 'YGY Weight-Loss Package' and have Finally Settled Down with the 'Anti-Aging Package.' I Also Supplement my Packs with Rebound Meal Replacement Powder, Rebound Sports Energy Drink, ZRadical [Fucoidan Product], Purmeric [Anti-Oxidants], Selenium, and my New Addition is TaiSlim Weight Loss.