What Do We Do With The Harvest of

"PAPER TRAILS"

 Left Behind By the Heritage of Beloved Parents/Loved Ones?





Introduction...




So Dad and Mother have died, [ 1998 and 2011 ], Both of their children have retired, their 'Family' house sold by the court-after 'kleine Schwesterchen' and her husband protested the will; so what was I  to do with all their letters, documents, pictures, music tapes, sacred records,  sketches, calculations and other 'Family Heirlooms' that have been left behind.
I was Mother's 'Primary Care Giver' for the last (6) years of her life; the court [she died intestate] had given me a departure date, 'kleine schwesterchen' had no interest in helping, so what should I do? I just didn't have the heart to trash everything or as my ex-brother-n-law said: "strike a match;" so with my previous website as a model [2003-2010] I decided to try and build a 'Legacy' website that would be a 'Tribute' to Both Families and that  I could hand over to my children and grandchildren.
SIDE-NOTE/SIDEBAR #1:
A spin-off of starting this project is that I realized there are many, many individuals and families that are facing the same issues that I have faced; therefore, a natural 'Niche' for this website is the gathering, formulating and collating of documents, pictures, wills, funeral arrangements 'und so weiter,' [and so forth].

---

My Purpose in Building This Site...

firstly, 

to spread the word about YESHUA HAMASHIACH, as Romans 1:16 reads....'For I am NOT Ashamed of the gospel of YESHUA HAMASHIACH'; secondly, as a 

 Tribute to the Legacy left behind by my Mother and Father. i.e. to 'Honor' Them for the Parenting Job they accomplished in me und meine kleine Schwesterchen; and thirdly, to spread the word about the 'Weight-Loss' success I have had with Both, LIMU and Dr. Joel Wallach's Company, 'Youngevity!'




My Qualification/Experience to Build A Tribute/Legacy Site?

1.) Why Not Some Other Relative?
2. ) If No One Else, How do I Start? 

My first website (above is the home page) was 'Your Secured Desktop: My Guarantee' 

with which I was selling

Voice Broadcasting Software

and online

Maintenance and Repair Services-as well as Identity Theft Protection Services...

I started the site in

2004

and even though the website theme was rather limited,

I had created a +100 pages website by 2006; I was volunteered [or conscripted]  since I was the only one in the family with any 'hands on' medical experience, especially since I was an ex Combat Medic/Surgical Technician while in the military from 1968-71 to become Mother's Primary Care Giver from 2006 until her death in April 2011. 

I was on the

verge

of becoming profitable when Mother became critically ill and I had to convert from being a part-time

'PRIMARY CARE GIVER' to 

a 24x6 avocation within a short time. 

I dismantled the site in late,

2009

, to devote all my time to her care, after retiring in April, 2009. 

Once she lost the use of her legs and her Alzheimer's worsened, her life began to diminish in quality; she died in April, 2011, almost reaching the age of 89.
Additionally, as I approach the 'Late Fall and Early Winter-of-My-Life' I also want to record some of my 'Faith-Walk' Experiences and some Memories from my Two Years in the Republic of VietNam from June, 1969-May, 1971 soas to encourage my two children and Grand-children in their Christian Faith and their Heritage! 
| | |
| --- | --- |
| My 'Linked In' Home Page | Logo That I Paid a Graphics Student to Create |
| | |
| --- | --- |
| 'Twitter' Home Page | 'Facebook' Home Page |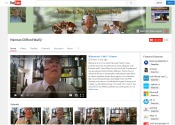 'YouTube.com/ponyhunter98 Channel I currently have 2480 Subscribers and  have a goal to reach 2500 Subscribers by Year End...if you're not a subscriber yet, or have never visited, come visit us at http://youtube.com/ponyhunter98


---


This Site Is Modeled After...Nori Evoy's Site=>
http://anguilla-beaches.com


I have been criticized for too much content, too pictures, too many ads, etc., ad. lib. However, Nori Evoy Started Her Site When She Was 14 Years Old-As An Avocation-And On Vacation With Her Family...She has now become the 'unofficial' Ambassador for Anguilla and has monetized her site with businesses  located on the island and that do business with travellers to and from Anguilla.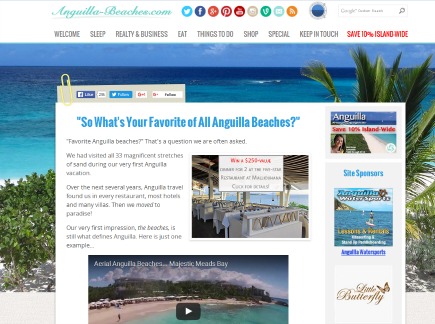 Now If You Want To Criticize Nori's Site, too-Consider the Following:  Nori Evoy is the daughter of Dr. Ken Evoy, the creator and developer of SBI-SSI! When she was 14 while her family was vacationing she asked her Dad:
"Can I Build one of them website things-that you develop and sell-about our vacationing here in Anguilla and will you help me when I get stuck?" 
Well now, the Evoy Family lives in Anguilla and Nori is about 23-24 and has become an Icon on the island of Anguilla, making enough income from her website endorsements to support herself and put herself through college."
As a line from the old movie "Flashdance"  [ 1980's] said....
"Take Your Passion and Make it Happen!"
So what is Your Passion?
why not take that passion and build-not just a website-but an eCommerce Business like Nori has done-like I have had a taste of and what I have made as an 'avocation'  [from the last two years-starting in 2014-Forward] As my Chosen Chief Retirement Vehicle? Remember, according to Sandy Botkin, Attorney, CPA, and former IRS Middle Manager:
"The Very Best Deduction you can have is a part-time/ Home Based Business-Becoming a 'Solopreneur' and being an Internet Marketer Counts-as long as you treat it like a business, keep accurate records, !
---
Want a Site Like This?    OR...
Do You Know a Veteran Who Is Fascinated By Computer and

Website

Marketing and Who is Looking for a 'Self-Employment' Opportunity?

[

The Author of this Site is a US Army -Medical Corps-RVN VETERAN: 1969-71]...And Using This Site to Supplement/Protect His RVN Disability and SSI Retirement Incomes...Like Daddy Told Me Many Years Ago:



"Remember Son, what the government giveth, it taketh away-even More Quickly! "



So Do You Know Another Veteran That Needs a Post-Retirement Income Protector? Does He/She have an Affinity-even Layman Status-for building Websites, Internet Marketing, have a passion that is 'screaming internally' to be expressed, and most importantly, understands the philosophy of the '

Way of the Tortoise?'



---
Now, About All Those 'Left-Behind' Paper Trails and Heirlooms...




So, What do I do with All the Paper Trails and

Heirlooms

when None of My Other Relatives Had Interest-not even 'meine kleine Schwesterchen?'

---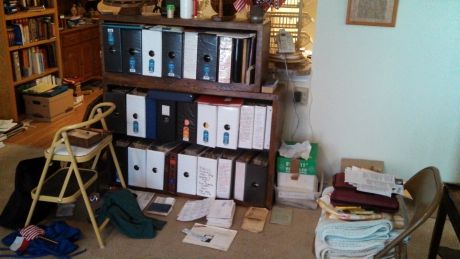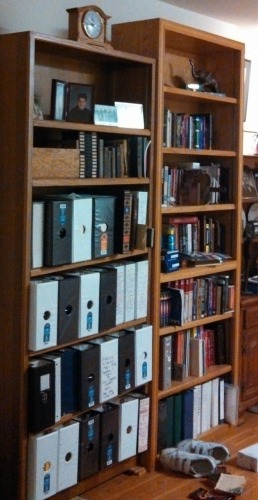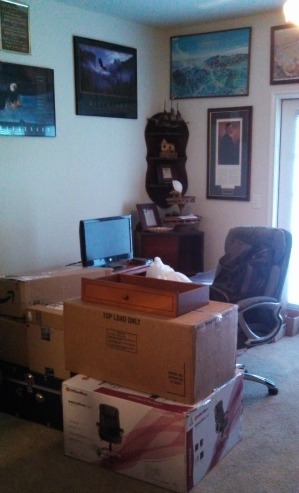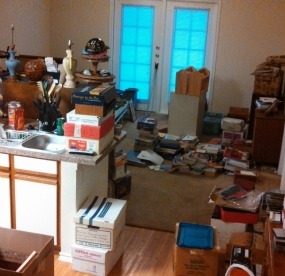 HINT NUMBER ONE:
"Don't throw anything away until you've had a chance to 'go through it all-' once you determine it hasn't been destroyed by time, insects or weather-even to the point of buying sturdy bookshelves and an 'on-site' storage room.  The result was 39 (5") 3-Ringed Binders with Plastic Protector Sheets; now that I've started building this site, I just wish there was somebody in my family that would develop an interest in carrying this project forward, after I die and walk through the veil of this life into the next one.

HINT NUMBER TWO:
Set up a storage closet or container for the 'spillover' which you will invariably have...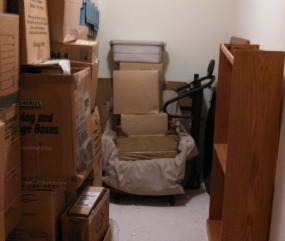 Now Today,  four years later, this Storage Room is Completely Full and in need of metal shelves [on both sides];  in order to Consolidate Space, cut-down some boxes, and do a little "Fall/Winter Cleaning"...Probably in November 2017-if I can find my 'Roundtuit'

---
Need More Space for a Storage Room Like the Above Picture???
---

BTW

, Know Somebody +55 Who Is Looking For A Great Place To Live For 'Independent Living' Lifestyle-Located in Houston, Georgetown, Amarillo and Dallas-Ft. Worth Areas of Texas?







MARIPOSA

is located on Ella Boulevard Across the Street from Bammel Intermediate School...




After returning to Houston on Labor Day, 2013, I moved into the Mariposa [55+] Apartment Complex [See Above Pictures] and one of the major attractions for me was the enclosed corridors [with breezeways at either end and in the middle of each wing] making the unit Ideal for walking on a Smooth Surface in all kinds of weather; One of the tools I used for losing 43 pounds in 2015! [More on that later]
---



Want to Contribute and Help Us Make This Site Dynamic and Interactive and have a voice in what is published and which photos are uploaded?



You can help in two ways:

First,  if you see something you like or want that is advertised, buy it and you will be helping to support this site;

Secondly, at the bottom of this page and others will be a form-fill to enter comments, upload pictures or videos and to share memories and to make corrections when you see mistakes.




Please Note Following Disclaimer Statement:
"I am a participant [since March 2017] in the Amazon Associates Services, LLC Program, among others. Other affiliate advertising programs are designed to provide a means for the author/developer to earn fees by linking to Amazon.com and other affiliated sites; thereby monetizing and perpetuating this website." 
When you purchase a product from one of our webpages, you will be helping to maintain and perpetuate this website long after the developer has become Totally Disabled and/or died and walked through the veil of this life to the next.
This Site is Purposely Designed to be Dynamic [Changing] and Interactive[We Want Your In

put]...

So,





What Do You Think-So Far? 




What Would You Want to See? 




Would You Be Willing to Contribute? 




One of the Exciting New Features for SBI! is at what the SBI! folks call a Content 2.0 Invitation Page in which I will Invite You, my Visitor and Reader, to Tell me Some of the Subjects you would like to see in this Legacy-Heritage Tribute; Additionally You will be able to ask questions, upload pictures, MP3 Music Files, add comments and yes, even criticisms...This feature makes the site ''Dynamic & Interactive' as you the Visitor-Reader can exercise control over the content of the site.

Oh, By-the-Way, I will  sprinkle this type of form on various pages throughout the website where I or my visitors believe that  input would be Both Interesting and Contributing!
---
Here is a 'Quick Tutorial' on How to use the Content 2.0 Form [Below]... Please Excuse Microphone Interference as I think I've dropped my headset one-time too many; additionally, this is a draft for this tutorial and will replace after I purchase new microphone-headset; probably mid-April. Thanks for your patience and toleration!
---
---

Do We Have Your Attention, But Would You Like to Talk to a 'Real-Person' About SSI-SBI? OK, Here's the Number-Call at Your Earliest Convenience!!!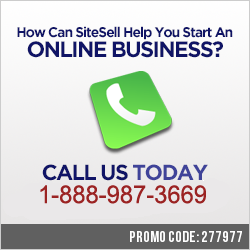 ---